Cara Mumford Biography
Cara Mumford (Métis / Chippewa Cree) is a filmmaker, writer and collaborative artist from Alberta, living in Peterborough, Ontario since 2010. In 2006, Cara discovered the Calgary Society of Independent Filmmakers, signed up for their 16mm Film School, and hasn't looked back since. But she also has a long history in theatre and, while in Calgary, worked with Marsha Ellen Meidow (Calgary's Humanitarian of the Year, 2007) on a number of collaborative theatre productions to raise money for youth programs and encourage marginalized youth to tell their stories.

Since becoming a filmmaker, Cara's short films have screened regularly at the imagineNATIVE Film + Media Arts Festival in Toronto, and toured throughout Australia and internationally with the World of Women Film Festival. Her short film, "echoes," won Best Underground Film at Chashama Film Festival in New York City in 2009. Her short screenplay, "Ask Alice," won Best Short Script at the Los Angeles Women's International Film Festival in 2011 and her poetry dance film, "December 6," a collaboration with Evalyn Parry (currently Artistic Director of Buddies in Bad Times Theatre), continues to be screened every year at Montreal Massacre memorials across Canada.

In 2011, Cara completed the first draft of a feature length screenplay, "Endangered Hero," through Telefilm Canada's Featuring Aboriginal Stories Program (currently in consideration by a Calgary production company). In 2012, Cara was selected for Bell Media's Diverse Screenwriters Program, to develop an original TV series. Cara was subsequently invited to pitch her TV series concept, "Animal Instincts," at imagineNATIVE's competitive industry pitch session. Also in 2012, Cara was commissioned by imagineNATIVE to create "When It Rains," a one-minute film for their Stolen Sisters Digital Initiative, drawing attention to the issue of missing and murdered Indigenous women in Canada. This film was created in collaboration with acclaimed Cree hoop dancer Sandra Lamouche.

In 2013, Cara collaborated with Anishinaabe scholar and storyteller Leanne Simpson to create a short film for Leanne's spoken word piece, "Leaks," which has since screened at the Sweetgrass Film Festival, the Asinabka Festival, the imagineNATIVE Film + Media Arts Festival, and more. Cara also began public speaking on women's issues, invited to be a keynote speaker for Women's House serving Bruce Grey County for International Women's Day, to Mount Alison University in New Brunswick to speak to the students and university community about using art as activism, and to high schools for workshops with students.

In 2014, Cara began work on the screenplay for a feature length narrative dance film exploring the issue of missing and murdered Indigenous women through the personal relationship of sisters. She was invited to workshop the concept in imagineNATIVE's Story Lab, held during the festival for programmed artists. That year she also began teaching "The Living History of Indigenous Dance and Theatre in Canada" alongside her mother, Marrie Mumford (Program Director, Indigenous Performance Studies, Trent University).

In 2015, Cara formed Bizaanbakweg (Women of Peaceful Waters), an artist collective with Ontario dance / theatre artists Christine Friday and Heryka Miranda, and international choreographer Rulan Tangen, to collectively bring the narrative dance film to life. Funding for the film has been secured from the Canada Council and it will be going into production in May 2017. In October 2015, Cara was selected to participate in imagineNATIVE's inaugural Producer mini-lab with Heather Rae (former director of the Sundance Institute's Native Program). In December 2015, Cara won the 6th annual Imagining Indigenous Futurisms writing contest with her short story, "The Whale Danced."

In 2016, Cara was invited to pitch "Red Card One: Migizikwe," her first science fiction film at the imagineNATIVE Film Festival, where she won the NFB/imagineNATIVE Interactive Digital prize to develop an interactive website for the Red Card Project, set in the world of the film. She is also working with several other local artists on The Gitigaan Project: The Future in the Present (working title), a multidisciplinary installation focusing on Indigenous Futurisms, specifically energy, food and water security in the sovereign territory of the Michi Saagiig Nishnaabeg Nation in 2167.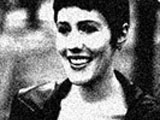 I keep such music in my brain / No din this side of death can quell; / Glory exulting over pain, / And beauty, garlanded in hell. ~ Sigfried Sassoon
Artist Statement
I regard film as visual poetry and have been equally inspired by the mythopoetic work of Maya Deren, the culturally-specific storytelling of Zacharias Kunuk and the beautiful cinematography found in the early films of Luc Besson. Other, less obvious, influences in my work are the paintings of Marc Chagall and the Heisenberg Uncertainty Principle. Chagall's use of symbolism, bright colours and visual storytelling have always inspired my imagination. And the Heisenberg Uncertainty Principle is a manifestation of the observer effect, which refers to the difference that is made to an activity or person simply by the act of being observed.
The common themes that I have seen emerging in my own work are those of empowerment and perceptions of reality. By which I mean that if we can simply change the way we perceive our reality, we are then empowered to change our reality. This is something I strongly believe in my life and I look forward to having the opportunity to explore it further in my film work, in all its forms and genres.
Contact the filmmaker at caramumford@gmail.com