Posted by Cara Mumford on Thursday, September 28, 2017
Under: Film
The Film
"Two sisters, both dancers...
One living, one spirit...
A healing journey through dance."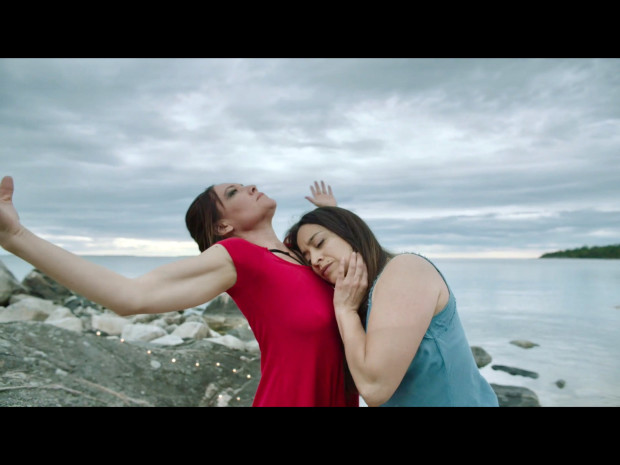 Ecstasy is the collaborative creation of the Bizaanbakweg Collective, a collective of women whose artistic activities are grounded in Indigenous cultural values and traditions, while working towards an enhanced future for Indigenous peoples.
Crowdfunding campaign:
Ecstasy Post-Production on IndieGoGo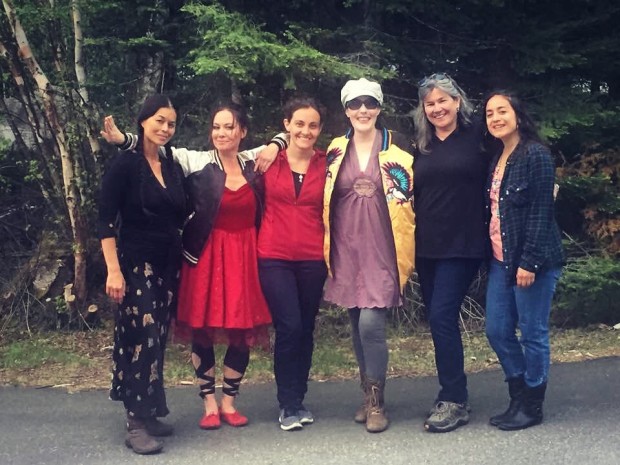 The collective members are (L-R) Rulan Tangen (Metis), Christine Friday (Temagami Anishinaabe), Elisa Iannacone (Mexican/Canadian), Cara Mumford (Metis/Chippewa Cree), Yvette Nolan (Algonquin), and Heryka Miranda (Guatemalan American Mestiza). See http://ecstasyfilm.ca for full biographies of the collective members (coming soon).
The mandate of the collective is to create site-specific short narrative dance films, working towards a feature-length narrative dance film about Indigenous women created by Indigenous women for both Indigenous and non-Indigenous audiences, with the intention of bringing awareness to critical issues faced by Indigenous women today, such as missing and murdered Indigenous women, impact from residential schools, and human trafficking, while fostering a dialogue to generate understanding and solutions.
Watch the trailer on the home page. Pitch video coming soon!
Where Does It All Go?
Our funding goal is $10,000, which will pay for editing, sound design (including additional dialogue recording), original music, colour correction, and final mix ready to send to film festivals.
If we exceed our goal, the next $1000 would go towards film festival submissions and related marketing materials, so that we can spread our message far and wide. The next $1000 would cover costs related to this crowdfunding campaign (IndieGoGo fees, cost of perks, etc). The next $2,000 would let us pay Elisa Iannacone, our Director of Photography, who graciously deferred her fee. The next $1000 lets us pay back our DP for her travel (since she was out of the country on assignment when we our dates for filming got firmed up and she flew back to Canada from Australia on her own dime).
If we raise more than $15,000, we intend to tour with the film to Indigenous communities in Canada, offering dance, theatre, and film workshops to the youth in addition to the film screening.
The Post Production Team
Cara Mumford (director/ producer): Cara Mumford (Métis / Chippewa Cree) is a filmmaker, writer, and collaborative artist from Alberta, living in Peterborough, Ontario since 2010. Since becoming a filmmaker in 2006, Cara's short films have screened regularly at the imagineNATIVE Film + Media Arts Festival in Toronto, and toured throughout Australia and internationally with the World of Women Film Festival. She has received industry training through Telefilm Canada's Featuring Aboriginal Stories Program (2010/11), Bell Media's Diverse Screenwriters Program (2012), the imagineNATIVE Film Festival's Story Lab with Maori writer/director Himiona Grace (2014) & imagineNATIVE Producer Mini-Lab with Heather Rae, former director of the Native Program at the Sundance Institute (2015), and the National Film Board's Digital Studio (2016/17). Cara's films tend to focus on the connections between her identity as an Indigenous woman and living in balance with the land, often incorporating elements such as dance, dreams, and futurisms to lift her storytelling out of the ordinary world. She believes in the power of visioning for the future, and that the connection we have with the land today determines the future we have tomorrow.
Faisal Lutchmedial (editor) Faisal Lutchmedial won the Bell Media Diverse Screenwriters Program in 2012 and was assigned to the writing room of the fourth season of "The Listener." He was subsequently hired to work as the story editor to that season's webseries. As a director, Faisal wrote, directed, and acted in the short drama "Useless Things" (2009, 16 min), which won the Writer's Guild of Canada English Script Prize at the Festival Nouveau Cinema Montreal. He also wrote and directed the short drama "Mr. Crab" (2012, 9 min), which aired nationally on CBC's Short Film Face Off. Faisal's other life is in the world of documentary, where he directed the feature "My Cultural Divide" (2006, 75 min), and several other shorts for festivals and television. As an editor he has worked on projects like "Burgundy Jazz" (Radio-Canada), an interactive web-series which won multiple awards, and was nominated for a Canadian Screen Award. Faisal is based in Toronto, where he works as a writer and picture editor.
Rob Bertola (sound designer) Rob Bertola is an award winning Sound Designer. He has won several Genies, Geminis, Director's Guild Awards, a Golden Reel Award and an Emmy. Robert's diverse Sound Desinger credits include live theatre, dramatic film, IMAX, animation, toy sounds, and a Museum soundscape for the Canadian sculptor Tony Bloom. "I am fascinated with using conventional and unconventional sources, mixed with perspectives, to invoke, thought, feeling or vision."
Edna Manitowabi (Anishinaabemowin vocals): Edna Manitowabi (Ojibway/Odawa) is a gifted traditional singer, storyteller and Indigenous performance artist originally from Wikwemikong, Manitoulin Island. She is a fifth degree Midewiwin, Head Woman of the Midewiwin Lodge at Roseau River, MB and the keeper of the Little Boy Water Drum. Always a strong supporter of Indigenous Arts, over the years she has served as the Traditional Cultural Director for Native Theatre School, The Centre for Indigenous Theatre, and the Aboriginal Dance Program at the Banff Centre for the Arts. She has also performed in several theatrical productions, beginning in 1994 with her first role in Drew Hayden Taylor's play "Someday," in which she was able to incorporate her experience as a residential school survivor. Most recently, Edna appeared as the grandmother in the film "Indian Horse," which had it's world premiere at the Toronto International Film Festival. Edna will be recording "Aunty Mary" for the soundscape of "Ecstasy." She is also one of our cultural advisors for this project.
Eekwol (original music): Eekwol aka Lindsay Knight (Cree Métis) is an award-winning hip hop performing artist in Saskatoon, Saskatchewan, originally from Muskoday First Nation, Saskatchewan. Eekwol uses her music and words to spread messages of resistance, revolution, and keeping the language, land, and culture alive for the next generations. Through her original sound she displays her activist roots by living and creating as a supporter of both Hip Hop and Indigenous culture and rights. She has successfully completed her Indigenous-Music focused Master's Degree at the University of Saskatchewan, which she has, along with her many years of dedication to hip hop, used to create something unique and astounding to give back to the community. Along with music and academic work, Eekwol frequently works with young people across the country as a mentor and helper. She achieves this through performances, workshops, speaking events, conferences, and programs. Check out her video for "Too Sick" (sampled in Cara Mumford's previous short film "When It Rains"):
Redlab Toronto (colour correction & final mix) REDLAB combines a world-class full-service post-production facility with unmatched technical expertise and talent. Since 2007, they have worked with world-renowned filmmakers, industry-leading commercial agencies, and broadcasters. Their services include colour, offline editorial, online, animation & design, VFX, audio, production services, 360 Virtual Reality, augmented reality, camera packages, on-set solutions, dailies processing, and various lab services. From conception to final master delivery, they aim to provide innovative post-production solutions, both creatively and technically. They are collaborators, artists, craftsmen, thinkers, doers, makers and inventors. Whether the project is heading to a 3D cinema screen, broadcast television, or the Internet, their mandate is to help make your vision a reality.
Share The Message
If you can't afford to contribute to the film but would like to share the message within it, please share far and wide and begin conversations on the issue of missing and murdered Indigenous women.
Special Thanks
To Dorothy Gingras and Rodney Elie Sr., Elders for the Batchewana First Nation Fasting Camp, and Elder Willard Pine of Garden River First Nation for their support of the project during filming, and for inviting us to conduct ceremony with them.
And to our current funders: The Canada Council for the Arts, Ontario Arts Council, Chris Krieger (Deluxe Design Group), Bob Mumford, and Marrie Mumford.
In : Film
Tags:
ecstasy
post-production
crowdfunding
indiegogo
#mmiw